Request A Free Proposal!
Your proposal will be emailed to you within 24 hours.
We paint stucco homes in Phoenix.
Trust in a proven painting process.
Your exterior house painters in Phoenix.
If your stucco home needs new paint, we're the team to call. As one of the highest-rated home painters in the Valley, Crash of Rhinos is known for our attention-to-detail, high-quality work, outstanding service, and—above all else—amazing results. Popular throughout the Valley, stucco homes require extra care, especially prior to painting. Our team knows and specializes in stucco—it's all we do. Our painting process is built for long-lasting paint that resists fading for years to come.
"We are fully satisfied with the quality of the work and price we paid."
"Quality work with unbelievable customer service throughout the entire process."
"This company is THE ABSOLUTE BEST! I have had them paint 2 properties for me, and we are more than satisfied."
We're proud to do things right.
Here's what makes us your best choice.
No money down. No upfront costs.
You don't pay us anything until the job is done. Before we start, we'll send you a digital proposal with everything you need to know about our work—including what you'll pay once we finish painting.
We'll work directly with your HOA.
If you live in a community with an HOA, there are several hoops you have to jump through before painting your home. With our Professional Color Consultant service, we'll handle this for you.
Our 7-year warranty is standard.
We're willing to stand by our work for 7 years. We're that confident in the longevity of our paint and the effectiveness of our process. With us, you're getting high-quality exterior paint that lasts.
Our Color Consultants are ready to help.
Let our Professional Color Consultant take all the guesswork and stress out of picking a color for your home's exterior. We'll meet with you one-on-one to review your options and give you guidance.
See it digitally before we paint.
Before we get started, we'll provide you with detailed digital renderings of your home so that you know what your paint will look like once applied. This gives you confidence in your color choices.
We are licensed, bonded, and insured.
We're a team of professional Phoenix house painters. To protect you and your home, we have the right licensing and insurance policies. Never work with an uninsured or unlicensed exterior painter!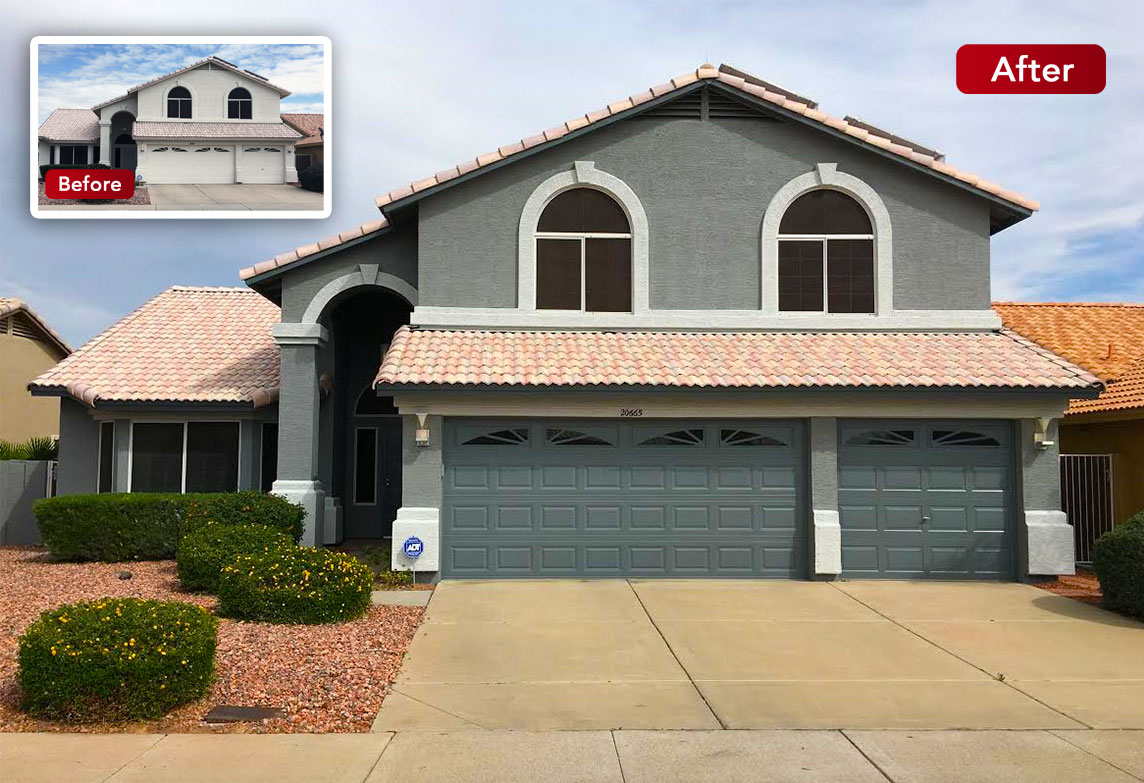 Straightforward, no-hassle service.
Our Process
1. Request a free proposal.
Here's what we need to get started.
If you need house painters here in Phoenix, contact us online or over the phone. We'll get some details from you and answer your questions. Then, we'll schedule a date and time to complete our video inspection of your home. Once that's complete, we'll send you a digital proposal.
2. We'll inspect your home.
No contact necessary.
We'll send one of our painting experts out to your home. For your safety during the COVID-19 outbreak, this is a no-contact assessment: just leave your back gate unlocked, and we'll complete the inspection.Every inspection includes full video being taken of the exterior of the home. This allows our painters to plan for any stucco repairs that may need to be made before painting.
3. We'll send you a digital proposal.
Includes a detailed scope of work.
With your inspection complete, we'll send you a digital proposal that contains everything you need to know about your exterior painting project. It'll also have an upfront quote for our services—no hidden costs or fees. As a trusted Arizona painting company, transparency is important to us. If you approve our estimate, just complete the contract and we'll add you to the schedule.
4. Schedule a day to paint your house.
Know exactly when we'll start.
We'll let you know the nearest date we can start your project. Just let us know if those dates work for you. If not, we can push your start date back. It's really up to you! Unlike many other painters here in Phoenix, AZ, we don't charge you anything until the project is complete. There's no upfront payment required before your start date.
5. We'll prep your house for paint.
Preparation is everything.
Many painters in Phoenix tend to rush the prep work so they can complete the project sooner. Not us. Our team understands just how vital prep work is to a successful project. Long-lasting, great-looking paint starts with repaired and properly treated stucco. As part of our prep work, we'll also take special care to protect light fixtures, windows, doors, and other items on your property.
6. It's time to paint.
Let's freshen up your home.
With all of our prep work complete, our team will start painting. Our team exclusively uses exterior stucco paint from Dunn-Edwards. This paint is specially formulated for sun-drenched homes here in the Southwest. It resists UV damage and fading far longer than many other paints used by Arizona house painters. The right paint, applied by the right team, makes all the difference.
7. We complete our quality inspection.
We'll ensure everything looks good.
After our team has completed their work, we'll review every side and angle of your home to confirm that everything looks the way it should. Any remaining to-do items will be quickly wrapped up, and we'll clean up, restoring your property to the way it was when we began. Our commitment to quality work and great-looking outcomes is the reason why we're one of the highest-rated painters in Arizona.
100% guarantee on all our work.
8. We'll send you a project complete notice.
We'll let you know as soon as our painters are done with the job. Every job we do comes backed by our 100% satisfaction guarantee. If you're not completely satisfied, we'll make it right.
You only pay when we are 100% done!
No Money Down.
No Upfront Cost.
Ready to get started? Contact us!
Get your free proposal.